Why mobile-first matters
People spend more time on their phones—so we designed our Giving Forms for mobile first and desktop second. Think bigger buttons, fewer fields and clicks, and a more delightful donor experience.
52%
Most gifts are made on mobile
65%
Most mobile donors use a digital wallet
5% lift
Mobile-first forms boost conversion rates
Meet your donors where they are
There are more ways to pay than credit or debit and GiveCampus supports them all—seamlessly. Now you can accept PayPal, Venmo, Apple Pay, Google Pay, ACH transfer, and more than 80 cryptocurrencies.
Accept in-person gifts, too
Process in-person gifts from donors at events, during visits, or anywhere else the mood strikes. GC Connect integrates seamlessly with all social fundraising and giving form solutions by GiveCampus.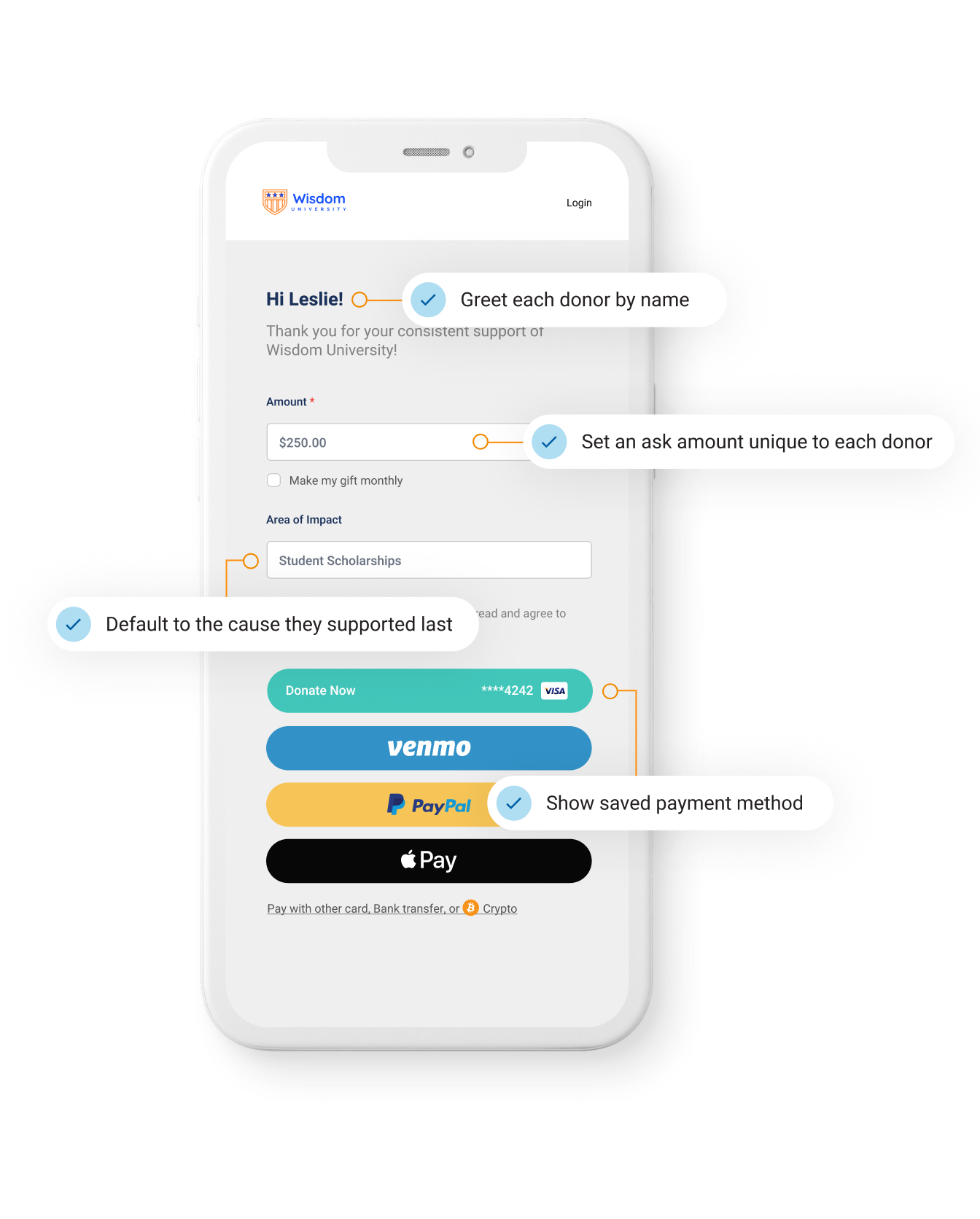 Make giving more personal—and easier
Now schools can deliver a true, 1:1 giving experience that's uniquely tailored to each donor. With GiveCampus, you can personalize every step of the process and make one-click giving a reality.
The overwhelming majority of GiveCampus schools are benefiting from recurring gifts
Recurring gifts are literally the gift that keeps on giving. In fact, the expected lifetime value of an indefinite recurring gift on the GIveCampus platform is nearly 10x the value of a one-time gift.
85%
of schools have recurring gifts turned on
nearly 10X
the value of a one-time gift
$3M
in recurring gifts rescued via auto-updater
Increase donor retention and drive predictable income
It's never been easier for schools to accept recurring donations. GiveCampus partners with Stripe to deliver a sophisticated recurring giving experience that's simple to manage—for you and your staff.
Auto-rescue functionality
Automatically update credit cards when they expire, so recurring gifts continue to get processed without interruption.
Flexible reporting
Get insight into the lifetime value of gifts, expected run dates, gift status, and more so you can forecast accordingly.
Easy management
Quickly update a gift on behalf of a donor, adjusting the designation, email address, next run date, and other details.
Secure donor-controlled updates
Send donors a secure link to update their credit card, skip an installment, and more—all with just a single click.
Automatically drive the corporate gift matching process from start to finish
GiveCampus seamlessly integrates with 360MatchPro by Double the Donation, the world's largest and most up-to-date matching gift database, so schools can easily grow their matching gift revenue.
Grow your corporate matching gift revenue by more than 35%
Most donors have no idea whether their gifts are match-eligible. Adding a matching gift search tool to your giving form is the easiest and most effective way to claim dibs on those matching dollars.
65%
of Fortune 500 companies match gifts
26M +
people work for companies that match
78%
don't know their gifts can be matched
$4–7B
in matching funds go unclaimed each year
Automate corporate matching gift programs
Raise more money by ensuring that your donors are aware of matching gift programs and are given the information they need to easily secure matching funds for your school.
Identify match-eligible donors
Uncover match opportunities at the moment of giving, when donors are most engaged, using a simple, embedded search tool.
Automate outreach
Let marketing automation do the legwork for you. Triggered, personalized emails notify donors of their match status.
Easily and instantly send matching gift info to donors
Equip match-eligible donors with everything they need: links to matching gift forms, guidelines, and next steps.
Empower staff to focus on high-value opportunities
Collect and track matching gift data to measure your success over time and identify areas for improvement.
Why switch to GiveCampus?
Schools who partner with GiveCampus for online giving see an average uptick of 18% in funds raised.
Talk to a fundraising expert
Get started in minutes
Onboard, build your first giving form, and start accepting gifts in minutes—without any support from a web developer or your IT department.
Satisfaction Guaranteed
We're so confident that you and your donors will love GiveCampus that if you don't, let us know within 90 days, and we'll refund your subscription fee—no questions asked.
GiveCampus has streamlined so much for us, and we've been able to be creative when we need to be and very straightforward when we need to be … it makes the giving experience really easy for our donors.
Emma Barnes O'Neill
Director of Annual Giving at Blair Academy
Monthly Drop-In Demo
Drop in the first Thursday of every month for a quick 30-minute walkthrough of the GiveCampus platform.
See GiveCampus in action